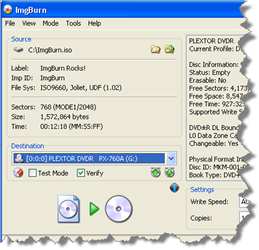 ImgBurn 2.5
DVD burning has always been a problem for me. Trying to find a quality burning programs caused me countless headaches and created more coasters than I know what to do with. After trying almost every commercial level piece of software (
Nero sucks big time
), I stumbled upon one of the finest and most complete burning programs ever conceived. ImgBurn allowed me to burn disk images, video discs and even has the ability to burn Blu-Ray Discs which is great for people into that sort of thing. The software has an impressive list of features for freeware (version 2.5 and earlier). Recently, the software has gone Adware for version 2.5.1 but it's still a small price to pay for such a powerful piece of software. I personally reccomend sticking with version 2.5 to avoid the Adware. It supports every version of Windows and even has Wine support for the Linux fans.
Supported environments:
Windows 95, 98, Me, NT4, 2000, XP, 2003, Vista, 2008, 7 and 2008 R2 (including all the 64-bit versions). It also officially supports Wine for Linux.
ImgBurn Official Website:
http://www.imgburn.com/